Hey Everyone!
this post was inspired by my weekly WhatsApp groups. So many new entrepreneurs! exciting times. I thought I'd write up a quick guide to how to start building and managing client relationships as a freelance creative. Here are a few tips to to help you establish great client relationships that start and end well. 
If you haven't dealt directly with clients before, you might be wondering where to begin. You might be scared or afraid to charge for the things you do!  Look at it like this. You both have goals and deadlines to meet. They need you. You need them. It's mutually beneficial if everyone fulfills their end of the bargain. Here are five tips to help you do just that.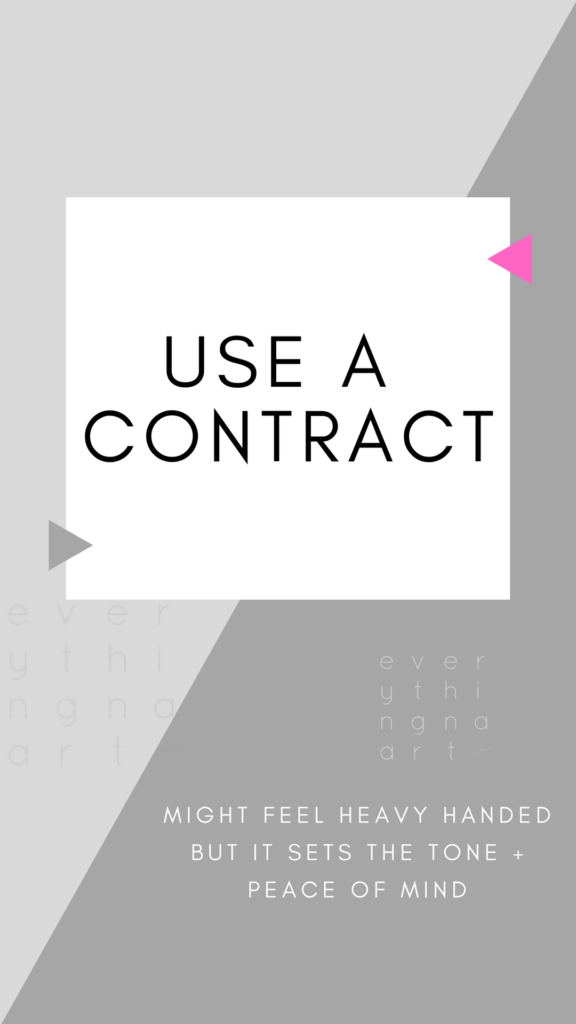 I. PUT IT IN A CONTRACT
Many freelancers choose an informal style of contract, such as a letter of agreement, which sets out who has agreed to do what, and when. Some even go off of a verbal agreement where there is no written document and they work off of "vibes" and "energy". I used to prefer this route in most cases but it has proven to be quite risky! A contract helps to make things clear and sets the tone for expectations. 
Putting a practical contract in place is a great way to set up a relationship and give yourself some extra peace of mind. It doesn't need to be super-complicated or long, and you almost certainly don't need a lawyer. Statement of work is another kind of contract which is popular with design and creative professionals. It goes into a little bit more detail about how you'll tackle things like amends, payments and intellectual property rights etc. 
As a creative, you should set these documents up in advance if you can, using a standard template that you can tweak and amend for new jobs as they arise.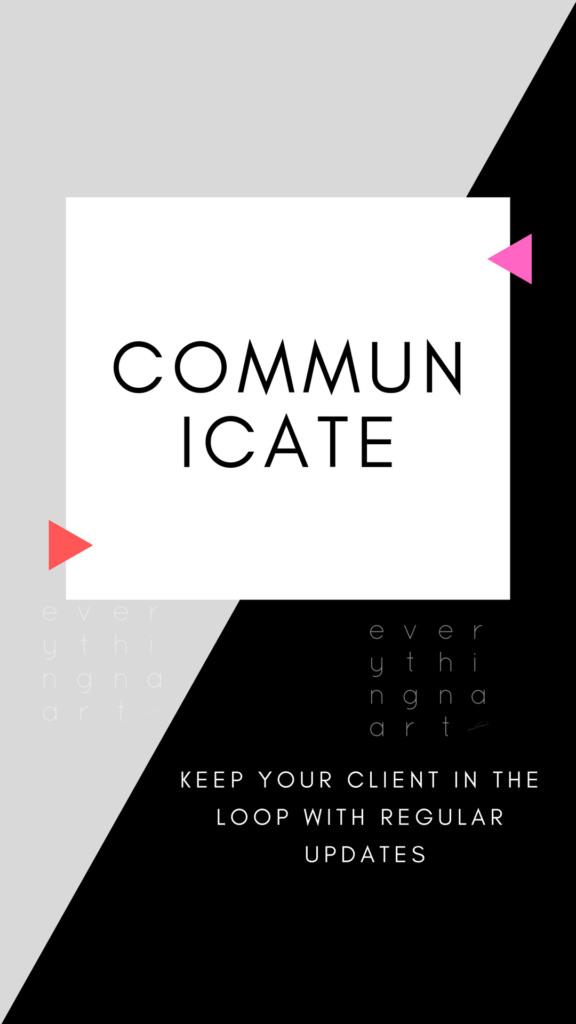 II. COMMUNICATE
Keep your client in the loop with regular updates. You don't have to give them a play by play as they have trusted you with the work enough to hire you but a weekly to bi-weekly update is great for longer term projects. 
what you are doing

what you plan to do next

anything you're going to need from them, such as feedback 
There are a couple of reasons for this. One is that it saves your client the effort of checking in with you and keeping things moving along. Another is that it prompts them to tell you about any changes or plans that could affect your work. It could even lead to them thinking of you for additional projects, as you'll be at the front of their mind. it also builds trust. Go to them before they have to come to you. This one I wrote specifically for social media account managers and brand ambassadors. 

III. PLAN PAYMENTS
Don't forget your moolah. I think its very important to establish how you'll be paid. Don't wait until all the work is done before you provide your account number. Also establish how and when you will be paid. If you like all of your money upfront then say so. If you require half up front, then say so. If it is free; then say so. 
For some companies, it's typical to pay invoices within 30 days, and for others it's 60. Some don't have a fixed policy. But don't be afraid to say what you want.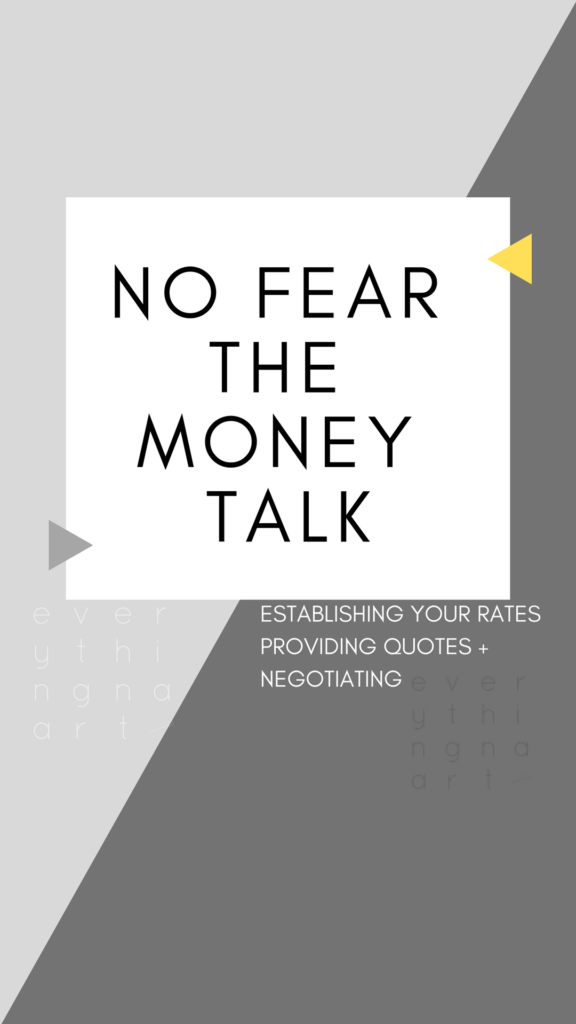 IV. NO FEAR THE MONEY TALK(S)
Negotiating prices, providing quotes and making sure you're paid fairly for the work you do is a fundamental part of being self-employed. It can also be one of the most daunting areas for first-time freelancers, but it becomes much easier once you've made a few key decisions.
One of the first things to do is establish your rates, whether they're hourly or by the day. Compare notes with other freelancers in your field if possible, or check out sites like Upwork, which shows rates for many freelancers in a range of fields, or freelancer.com, which gives you an idea what companies are prepared to pay for specific jobs. Once you've decided on your rates, you can use them to price your work and negotiate with your potential clients.
It's also a good idea to think about whether you want to work on a project or a time-and-materials basis.
With 

project-based costs

, you charge a set amount which is agreed at the outset. This is a good way for clients to make sure they're working within their budgets. But it needs to be accompanied by a clear statement of work to make sure you don't get asked to do extras that aren't covered by your original costs.

Time and materials

 means you keep track of the work you've done and bill the client on a regular basis until work is complete. This kind of billing is good for projects that change as they go along, or for work with an unpredictable schedule. It requires a bit of extra admin in tracking your hours, but it means you won't be out of pocket if there's more work than expected
either way you dice it, be clear and have no fear to talk about money.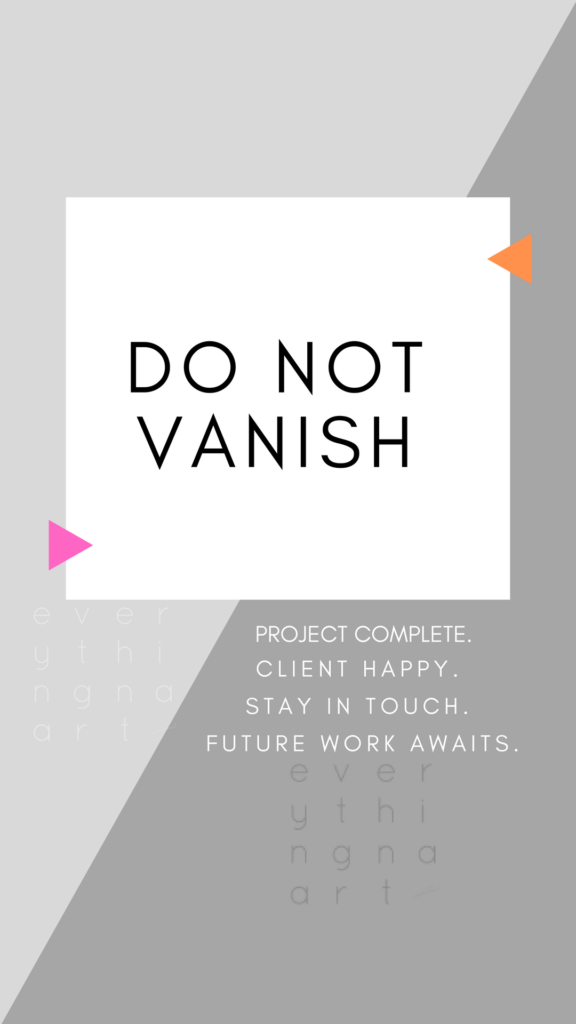 V. DON'T VANISH WHEN THE JOB IS COMPLETE
Ok you're super excited for the project to be over or you wish it were longer. Hopefully you can celebrate a job well done! If you've done a good job, they may well want to hire you again. But the chances are they'll move on to new things quickly, and won't always remember you unless you make the effort to stay in touch. Keep things light. you can drop a line every couple of months reminding them of new services or creative endeavors you may be into. Don't let them forget you!
#EverythingNaArt